Scroll down to RSVP!
WINTER FAREWELL - DEALS GAP & CASHIERS
WILDERNESS TRAIL WEEKEND GETAWAY
SATURDAY & SUNDAY – MARCH 25th to MARCH 26th, 2023
RAIN OR SHINE
Click HERE to download the full program to this event! Routes and short guide coming few days before the event!
ABOUT THE EVENT
A journey to the mountains never disappoints, and this trip will be no exception. A weekend getaway can help strengthen bonds and form long-lasting friendships over and above the acquaintanceships we experience during a single morning drive.
There's something about that feeling of familiarity on the drive to the mountains that brings with it a sense of awaiting adventure, and during this weekend, we will be driving Saturday and Sunday on legendary roads around the Great Smoky Mountains and Nantahala National Forest. In two days, we will cover almost 500 miles across legendary roads like the Tail of the Dragon, Hellbender, Moonshiner 28, Cherohala Skyway, the Chasing the Dragon Hillclimb, Foothills Parkway, and many more undisclosed backroads!
Our overnight stay will be in Cashiers, "the Heart of the Mountain!"
Cashiers, North Carolina, is one of the Southeast's premier resort destinations, widely known for its historic village, mountain elegance, world-class dining and shopping, the finest club lifestyles, and breathtaking natural beauty. It sits at a high elevation of about 3,500 ft., nestled in the middle of the Nantahala National Forest.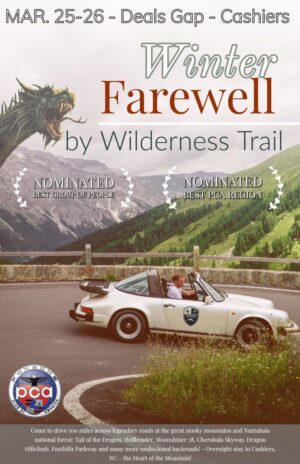 MEETING INFORMATION
We will meet at 9:00 a.m. on Saturday, March 25th, at the 129 HUB (4371 Calderwood Hwy, Maryville, TN). You MUST RSVP on WTRPCA.ORG to attend this event.
Participants coming from a distance may want to stay Friday evening somewhere nearby. Alcoa and Maryville have many affordable hotel options.
Members of the Wilderness Trail Region coming from Tri-Cities, TN: You may organize among yourselves to drive Saturday at sunrise to 129 HUB, but the PCA event, for insurance purposes, does not start until everyone is at 129 HUB.
Arrive with a full tank. If you're coming from the Maryville side, there are plenty of gas stations on US-411 before you turn left on US-129 N. If you are coming from the Robbinsville side, use one of the gas stations on US-129 in Robbinsville (near Ingles & Walgreens)
AGENDA – SATURDAY (250 mi / ˜6 hrs driving)

Bring a snack and arrive with full tank
9:00 a.m. – Meet at 129 HUB to sign waivers
9:15 a.m. – Drivers Meeting
9:30 a.m. – Start Driving
10:30 a.m. – Stop at Maple Springs Overlook (guys may use nature's bathroom)
10:45 a.m. – Resume Driving
12:30 p.m. – Lunch Stop – morning bathroom break
1:30 p.m. – Gas Stop (split up between Exxon & Shell to speed-up)
1:50 p.m. – Resume Driving
3:50 p.m. – Stop at Luftee Overlook (guys may use nature's bathroom)
4:10 p.m. – Resume Driving
4:30 p.m. – Gas Stop – afternoon bathroom break
4:50 p.m. – Resume Driving
6:00 p.m. – Arrive at in Cashiers / Check-in
7:00 p.m. – Meet at parking Lot
7:05 p.m. – Dinner at Whiteside Brewing (5 min walking) or drive to
Grand Olde Station for fine cuisine (20 min drive)
Get gas before going to bed or early morning. Exxon located 0.4 miles from Hotel Cashiers.
AGENDA – SUNDAY (210 mi / ˜5 hrs driving)
Arrive with full tank
Complimentary coffee, refreshments, and breakfast snacks (granola bars, oatmeal, fruit...) available at the hotel lobby. Zookeeper Bistro (3 min walking) offers American Breakfast starting at 8:00 am. Plan accordingly!
9:00 – Meet at Hotel Parking Lot
9:10 – Start Driving
12:30 – Gas & Lunch – Hot Spot – bathroom break
1:30 – Resume Driving
3:30 – Arrive at 129 Hub – end of the PCA event
Few days before the drive, you will receive the routes and a 2-page summary document. You don't need to print this 17-page document. That's for reading only.
HOTEL CASHIERS
Cashiers is listed as one of the 50 Most Beautiful Small Towns in America.
Our main hotel reserved for this event is the Hotel Cashiers, an upscale boutique mountain accommodation located in the heart of Cashiers, NC. Featuring warm hospitality and the perfect blend of modern and rustic design in a quiet and relaxed mountain setting.
Location is everything! After a loooong day of driving, what about having a walking distance restaurant to eat, drink, and relax with your fellow Porsche friends? There are restaurants and shops right outside the hotel, as well as green spaces on the property.
After dinner, you're invited to relax by the firepit under the trees while sipping a glass of wine.
​Click HERE to look at the hotel: https://www.hotelcashiers.com/gallery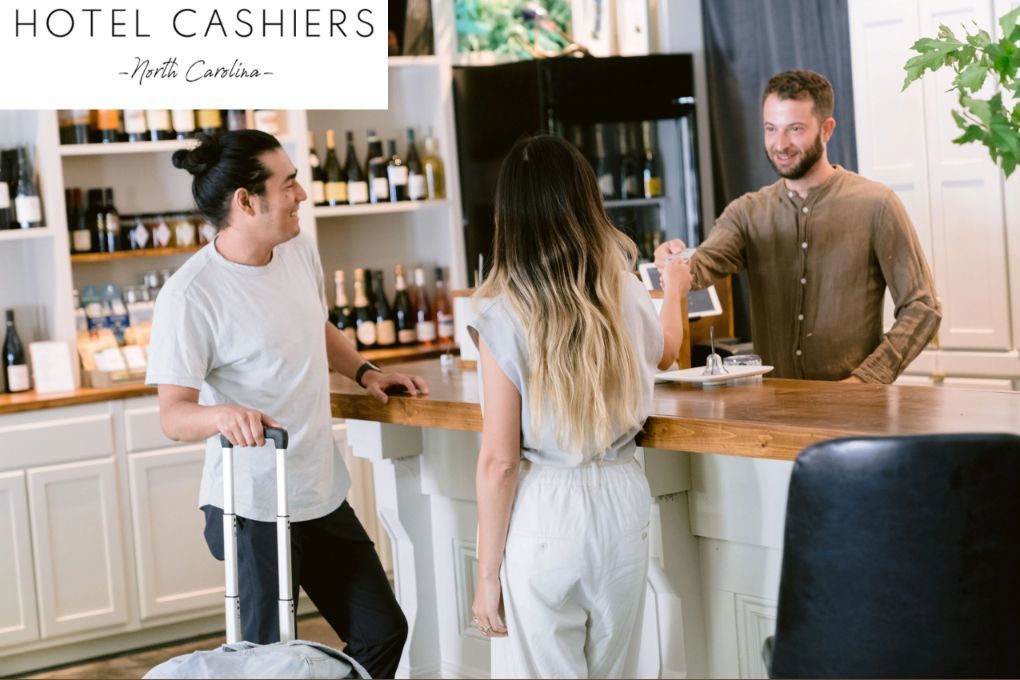 ​ ROOMS
DO NOT CALL THE HOTEL CASHIERS! We have blocked the entire hotel for this event. They are offering our group a 10% discount on their regular rate. Amounts below are already discounted (not including tax or other applicable fees).
When you RSVP, you can select one of the following options:
12 Single – King Bed - $179
6 Double – Queen - $206........................(very affordable if you share the room with someone)
No room is needed; I am sharing with someone, or you will make a reservation somewhere else
Please be mindful when selecting your room, leaving the Double Queen rooms for those who are willing to share the rooms with other attendees
When you RSVP, if your room of choice is no longer available, I will move you to one of the other rooms available; for example, if you selected Single King and it is taken, I will assign Double Queen to you, and I will communicate with you to confirm if you are ok with the change
If no other rooms are available, I will notify you so that you can book your own room in a nearby hotel (see options below)
WAIT for my signal! I will email you later with the details so that you will be required to book your room online, we have a special group link for that. DO NOT CALL THE HOTEL.
By March 10th, your reservation will no longer be refundable. If you can't deal with this group reservation policy, I recommend booking a room in one of the suggested hotels below

OTHER HOTELS IN CASHIERS
The boutique hotel that we have blocked has only 18 rooms (a total of 25 beds). Our weekend getaways are popular, so I expect the 18 rooms to be all booked quickly! If you get an email from me saying that the rooms became unavailable after you RSVP'd, or if you don't want to stay at the Hotel Cashiers here are some options that are 1 to 6 minutes' drive from the Hotel Cashiers (call and book your room yourself if you're not staying on Hotel Cashiers):
The Wells Hotel – 1 min – 18 rooms available on Jan 11th
Fairway Forest Resort – 6 min – 13 rooms available on Jan 11th
Hampton Inn & Suites – 6 min – 60 rooms available on Jan 11th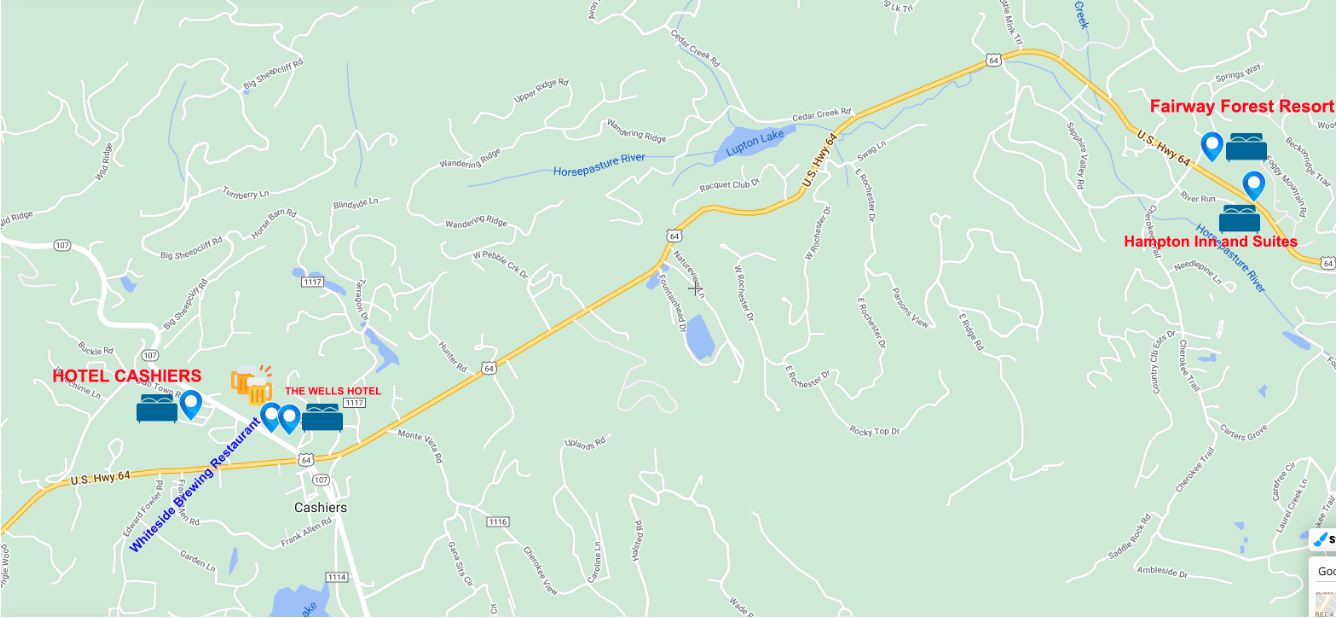 The hotels above have rooms available (checked availability on January 11th), but you must hurry up! It's better to reserve and cancel than not have a room – check their cancellation policies.
HIGHLANDS, NC is just 18 minutes away and they also have many hotel options!

You can also check on Airbnb; there are many options in Cashiers or in the 20-minute range (according to the map). The availability on Airbnb was checked on January 11th; hurry up!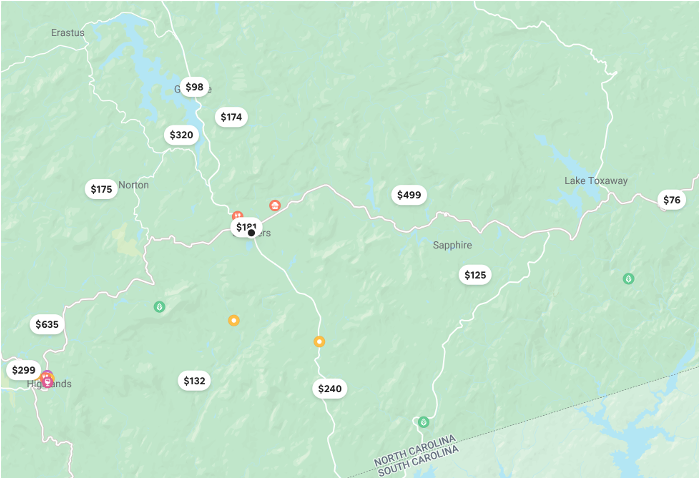 DINNER
When you RSVP, you will be given three dining options to choose from:
- Whiteside Brewing: A 5-minute walk from the hotel cashiers, this is ideal for those who want to drink without having to drive! We will have a 'Pavilion' reserved for our group and heaters on point! They close at 9:00 p.m.
Visit their website for beer selection and menu details: whitesidebrewing.com
- Grand Olde Station – Located 20 minutes by car from Hotel Cashiers, this restaurant offers a cozy atmosphere and sophisticated food at a reasonable price. I have not made a reservation yet, but I will do so once I know if anyone is interested in going there instead of going to the brewpub restaurant.
Visit their site for more information and menu details: grandoldestation.com
- Somewhere else – Cashiers Downtown is steps away from the Hotel Cashiers and even if you stay at some other Hotel in the area, driving and parking won't be a problem. If you don't want to drive 20 minutes to Grand Olde Station or eat at the Brewing, you will find great restaurants in Cashiers, but in this case, you are on your own. I won't make a reservation for you for dinner.
After dinner, join us by the Hotel Cashiers' firepit and enjoy one last glass before going to bed. f you are not staying at the hotel cashiers, bring a DD!
THE ROADS
Here are some of the roads that we will drive during the weekend! Come ready for a packed Saturday and Sunday!
TAIL OF THE DRAGON
The legendary Tail of the Dragon, 318 curves in 11 miles, period. Some of the Dragon's sharpest curves have names like Copperhead Corner, Hog Pen Bend, Wheelie Hell, Shade Tree Corner, Mud Corner, Sunset Corner, Gravity Cavity, Beginner's End, and Brake or Bust Bend. The road earned its name from its curves being said to resemble a dragon. Most of the road lies in Tennessee yet a small section of it crosses into North Carolina. The Tail of the Dragon is one of the best roads to test your skills on. NOT for the weak of heart. Be very careful, and DO NOT push your skill level . . . ride your ride and enjoy the experience.
CHEROHALA SKYWAY
The Cherohala Skyway starts in Tellico Plains, TN and ends in Robbinsville, NC. From the city limits of Tellico Plains to the city limits of Robbinsville is a 51 miles trip of nothing but uninterrupted curves and no intersections. Its sweeping curves will tempt you to ride faster, then you will be in one of the tighter curves with too much speed, so, be careful! The road is in excellent condition and is well maintained. Often referred to as "a drive among the clouds" you will drive to elevations of over 5400 feet high. This truly is one of the best rides in the nation!
FOOTHILLS PARKWAY
33 miles connecting US 129 and US 321 in Tennessee through US Forest Service lands, closed to commercial traffic, offers several fabulous views of east Tennessee, all the way to the Cumberland Mountains, some 50 miles to the west, and the Great Smoky Mountains, just a stones' throw to the east. It brings a little bit of everything you could want in a good ride: scenic views, tight curves, and multiple elevation changes to keep you engaged. It is less work than the 'Dragon', yet still just as fun and possibly even more visually appealing! You will not see billboards, homes, or commercial buildings. The Foothills Parkway is as pristine as it gets. The only man-made thing you will see from the seat of your Porsche, is the road.
HELLBENDER & MOONSHINE 28
Hellbender is the initial 22 miles of the Moonshiner 28 trail, starting at Deals Gap going towards Fontana Dam. Heading north on the Hellbender 28, you find a completely different road experience with sweeping curves and drop-offs, all lakeside in the Great Smoky Mountains. There are few drives in America that can equal the views as you travel this beautiful byway along Fontana Lake in North Carolina. The road is an intersection at the end of the Tail of the Dragon, and it is, in my opinion, far better than the Dragon and has very little traffic. I have ridden this road several times, and it is one of my favorites in the area.
After the initial 22 miles on NC-28, the Hellbender is over, but Moonshiner 28 is just getting started. The road winds its way southeastward 103 miles through Franklin and Highlands, North Carolina, before turning southward into Georgia and South Carolina and ending at the sleepy town of Walhalla. On this ride, we will ride its portion up to Franklin. The road boasts some great twisties, wide sweepers, and unsurpassed scenery.
RSVP LIST (might not be fully updated):
| | |
| --- | --- |
| Name | Passenger |
| Antonio Abriola | |
| Bill Birchfield | Sybil Birchfield |
| Brandon Grover | Amber Grover |
| Christian Wienands | Cynthia Waddell |
| Colby Hurd | |
| Daniel Florian | |
| Daniel Rizzardi | Donna Rizzardi |
| David Fagerburg | |
| Dave Shantha | |
| David Thompson | Renae Thompson |
| Davin Beltran | |
| Dennis Neal | |
| Doug Rich | |
| Gene Spires | |
| George Watson | Liz Watson |
| Houston Haynes | |
| James Pierce | |
| Jay Westbrook | Christine Westbrook |
| Jeff Price | Linda Price |
| Jeff darby | |
| Jeremy Stanley | Karla Stanley |
| John Bowling | Bill Woodward |
| Jose Di Bernardo | |
| Joseph Eshelman | Dylan Eehelman |
| Keith Sluss | Tina Sluss |
| Ken Ledbetter | Elaine Ledbetter |
| Kevin Woodley | Lisa or Caleb |
| Leo Nascimento | |
| Mark Jackson | |
| Mark Privette | Caroline Anglin |
| Mark Slauson | |
| Maurice L. Winston | |
| Michael Snoddy | |
| Mike Blair | Roma Blair |
| Parker Smith | Ross Smith |
| Patrick Fleming | Elena Fleming |
| Patrick Frye | 1 - TBD |
| Rich Palumbo | |
| Rod Mueller | Laurie Mueller |
| Rodney Burns | Tammy Burns |
| Ron Miller | |
| Ryan Elswick | |
| Tammy Baergen | |
| Terry McNany | |
| Tim Moyer | Tina McMillan |
| Zack Itani | Luisa Radusinovic |
Click HERE to download the full program to this event! Routes and short guide coming few days before the event!


WATCH FOR A CONFIRMATION EMAIL AFTER YOU RSVP. IF YOU DO NOT RECEIVE AN EMAIL IN 48 HOURS, LET US NOW: PCAWTR@GMAIL.COM