Click the image to see it bigger.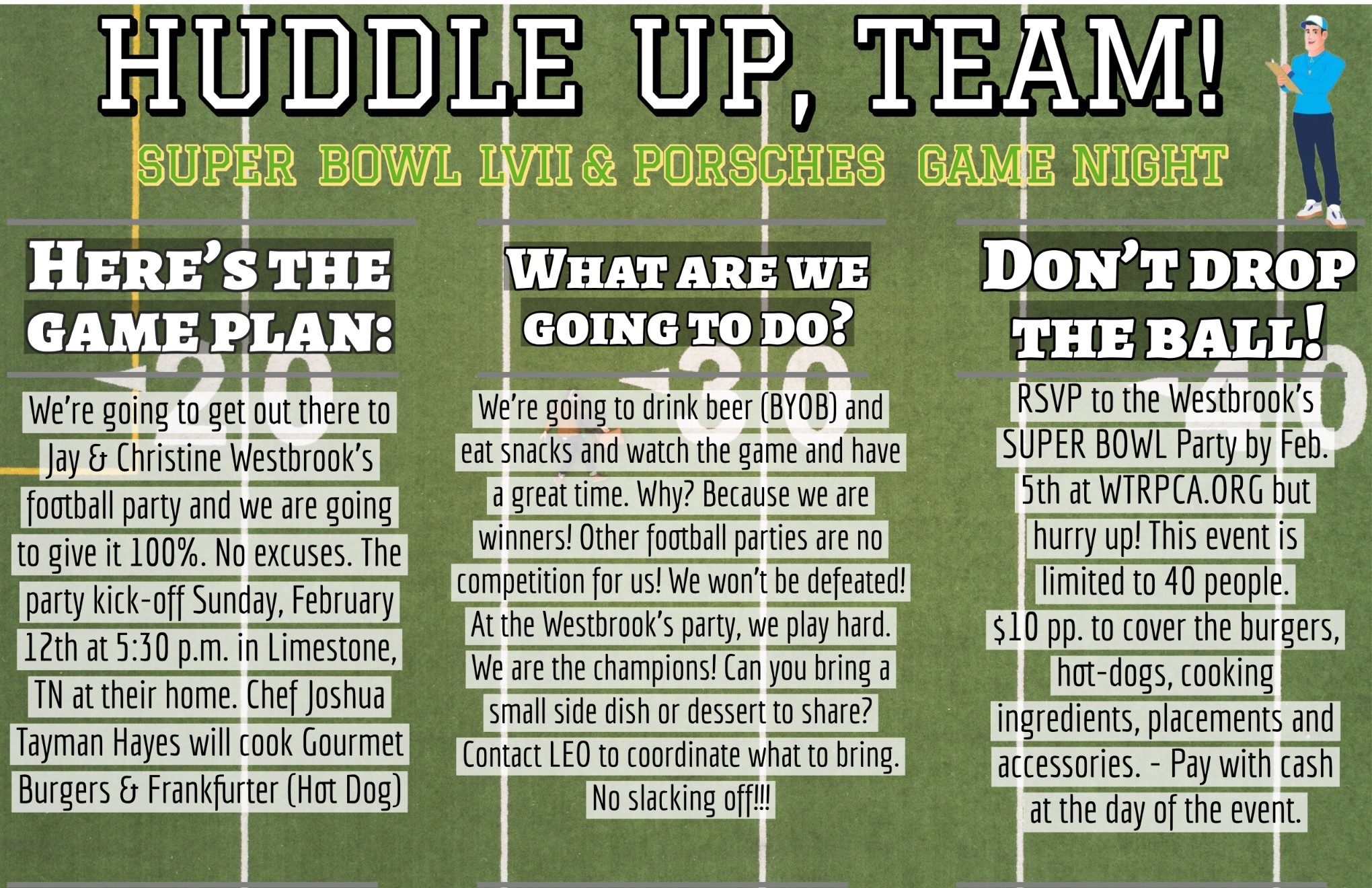 - COST: $10 pp. to cover the burgers, hot-dogs, cooking ingredients, chips & salsa, tea, lemonade, placements and accessories. - Pay with cash at the day of the event.
- BYOB

- Bring $20 if you want to play 'Place Your Bets' during the game
--
If the image above is hard to read:
Huddle Up, Team!
Super Bowl LVII & PORSCHES GAME NIGHT
Here's the game plan:
We're going to get out there to Jay & Christine Westbrook's football party and we are going to give it 100%. No excuses. The party kick-off Sunday, February 12th at 5:30 p.m. in Limestone, TN at their home. Chef Joshua Tayman Hayes will cook Gourmet Burgers & Frankfurter (Hot Dog)
What are we going to do?
We're going to drink beer (BYOB) and eat snacks and watch the game and have a great time. Why? Because we are winners! Other football parties are no competition for us! We won't be defeated! At the Westbrook's party, we play hard. We are the champions! Can you bring a small side dish or dessert to share? Contact LEO to coordinate what to bring. No slacking off!!!
Don't drop the ball!
RSVP to the Westbrook's SUPER BOWL Party by Feb. 5th at WTRPCA.ORG but hurry up! This event is limited to 40 people. $10 pp. to cover the Burgers, Hot-Dogs, Chips & Salsa, Cooking ingredients, placements and accessories. - Pay Cash at the day of the event.