Click HERE to read the weekend full program before you RSVP!
ABOUT THE EVENT

A weekend getaway can help strengthen bonds and create lasting friendships over and above the acquaintanceships we experience during a single morning drive. On this event, we will drive Friday, Saturday and Sunday through curated routes and scenic roads.
Some of the bells and whistles that we will be adding to this event are: Downtown block parties, restaurant reservations with scenic views or food experience, breakfast-experience, police escort, historic places, contact with local community, DJs, bourbon tasting, moonshine tasting, shopping, local news, etc.
Follow updates to this event on Facebook:
https://www.facebook.com/events/540372077672258/
Charity
The Backroads of Appalachia is a non-profit organization with a passion and empathy for the Appalachian Region, driving economic development, job training and opportunity to the poverty-stricken areas of Appalachia through tourism and motor sports. Their involvement in social good and automotive events is aligned with the Porsche Club of America mission. Backroads of Appalachia need our help to raise $12,000 for the Polar Express that will give 300 Eastern Kentucky's orphans a wonderful experience that they will remember and treasure for the rest of their lives. The funds will provide them Pajamas, Full Dinner, Hot Chocolate, etc. Once on board, the kids travel to the "North Pole" while they hear the story of The Polar Express. THE POLAR EXPRESS Chefs will dance through the cars as each ticketed passenger is served hot chocolate and a cookie treat. As the train passes the North Pole, they will catch a glimpse of Santa, who will board the train for the return trip. As they head back to the Depot, Santa will be on board and walk through each car to give out the "first gift of Christmas" — the sleigh bell — to each passenger. To this event, I am asking $40 per car for those who would like to donate and help making Christmas special to those kids. Our PCA goal is to raise a total of $1,400 dollars during this event!
https://stearnsthepolarexpressride.com/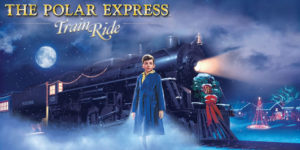 AGENDA
DAY 1 – FRIDAY – SEPTEMBER 2
4:00 pm – Check-in (might be able to check-in earlier)
5:00 pm – Meet at Parking lot – Out for dinner / downtown block party via KY-160 Dragon Slayer
5:45 pm – Arrive at The Big Stone Gap General Store & Café:
Dinner, full bar & 10 taps. Largest selection of craft brews in Big Stone Gap. Street block to park the Porsches side-by-side. Live music and bands on the street.
9:00 pm – Head back to hotel via KY-160 Dragon Slayer
DAY 2 – SATURDAY – SEPTEMBER 3
7:30 am – Breakfast at Pine Mountain Settlement School (25 min from hotel)

8:30 am – Leave PMSS to Beattyville via River Dragon
11:30 am – Lunch in Beattyville – Los Two Brothers – Mexican Rest.
1:00 pm – Moonshine tasting (for passengers, of course!)
1:30 pm – Leave Beattyville to Mist Distillery via River Dragon
3:15 pm – Mist Distillery visit in Whitesburg – Free of charge
4:30 pm – Leave Mist Distillery to Cumberland via Slingshot
5:00 pm – Ice Cream with Kids
6:00 pm – Head for Dinner at Pine Mountain Settlement School
6:30 pm – Dinner at PMSS
DAY 3 – SUNDAY – SEPTEMBER 4
7:30 am – Breakfast at the Hotel & Check-out
8:30 am – Leave Hotel to Breaks Interstate Park via Dragon Slayer

12:30 pm – Lunch at Rhododendron Restaurant Breaks Interstate Park
1:45 pm – Leave Restaurant to Back of the Dragon via Simply the Breaks

3:30 pm – Arrive at the Back of the Dragon Welcome Center
4:30 pm – Head to Marion via Back of the Dragon
5:15 pm – PCA event ends in Marion


Did you really read the weekend full program document? Click HERE if you didn't!